Published by Cablesys on Nov 10th 2017
The current amount of data transmitted within backbone cabling can be supported by 10 Gigabit Ethernet (GbE) technologies. However, current trends show that the number of network connections in data centers is rising quickly. The patching field will become crowded and difficult to maintain if traditional fiber cables are used. The next technologies of 40 GbE and 100 GbE will be required. How can data centers solve this problem? Transition to ultra-high density in cabling. Through using MPO connectors, MTP connectors, MPO cables and MTP cables, fibers will be brought together into a single interface.
Multi Fiber Push On (MPO)
MPO means "multi fiber push on"; it is a specific interface. The International Electrotechnical Commission (IEC) and the Telecommunications Industry Association (TIA) have defined the standards for MPO style connectors. The IEC-61754-7 is commonly known as the standard internationally. The common standard for the TIA is the TIA-604-5. The TIA-604-5 is also known as Fiber Optic Connector Intermateability Standard (FOCSI) 5.
An MPO interface was developed for high-density termination capability and to support high-speed telecom and data commuinication networks. It was originally introduced as a single-row 12-fiber connector. Now, there are 8 and 16-single row fiber types that can be stacked together to form 24, 36, and 72 fiber connectors using multiple precision ferrules.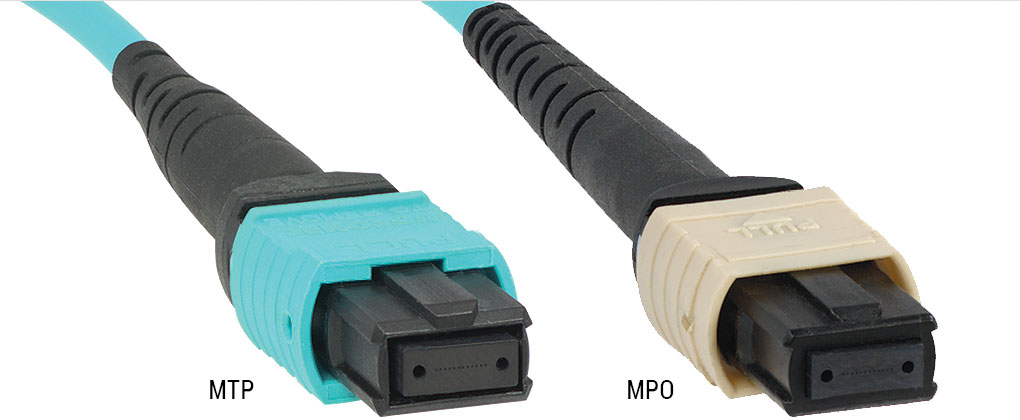 MT Ferrule
A Mechanical Transfer (MT) ferrule is a multi-fiber ferrule. The alignment is dependent on the eccentricity and pitch of the fiber and the alignment of the pins and holes during mating. The important fundamentals for fiber alignment are the ability of the MT ferrule to hold intense tolerances for precision during the molding process and the shape, tolerances, and material composition of the alignment pins.
MTP Connector
The MTP connector was introduced to improve optical signal performance over the MPO connector. Comparing the MTP connectors to standard MPO connectors, the MTP ferrule floats to maintain physical contact on a mated pair if there is strain on the cable. This helped to improve mechanical performance and lower Insertion Loss.
An MTP connector has elliptical-shaped and stainless steel-guided pins. The pins do not chip the ferrule material compared to the MPO's chamfered guided pins. This feature improved guidance and reduced wear within the pin holes. Over time, chamfered guided pins can cause debris to fall into the guide pin holes or on the ferrule end face.
The connector was built with a metal pin clamp that centers the push spring. This eliminated lost pins, centered spring force, and eliminated damage from the spring. Plus, the spring design maximized ribbon clearance for twelve-fiber and multi-fiber applications to prevent damage.
To meet various applications, the MTP connector is offered with different styles of boots, such as round and loose fiber cable, oval jacketed cable, bare ribbon fiber and short.
Compatibility
The MTP connector complies with the MPO standard as outlined in IEC standard 61754-7 and TI-604-5. Therefore, it is a fully compliant MPO connector and can interconnect directly with other MPO-based infrastructures.
Wiring
There are four types of wiring -- straight-through, cross-over, pair flipped, and universal. Below are examples using a 12-pin MTP connector.
Straight-through wiring is from pin 1 on connector A to pin 1 on connector B. The connectors are configured key-up to key-down and the signals will be mirrored. Straight-through cables are commonly used on patch panels.
Crossover wiring is from pin 1 on connector A to pin 12 on connector B. The connectors are configured as key-up to key-up and the signals will not be mirrored. Switches, transceivers, and electronic devices commonly use crossover cables.
Pair-flipped wiring has the same key configuration as straight-through wiring, but it incorporates a duplex pair-wise flip with the fiber location from the left to the right connector.
Universal wiring also has the same key configuration as straight-through wiring, but it incorporates an even/odd flip with the fiber location from the left to right connector.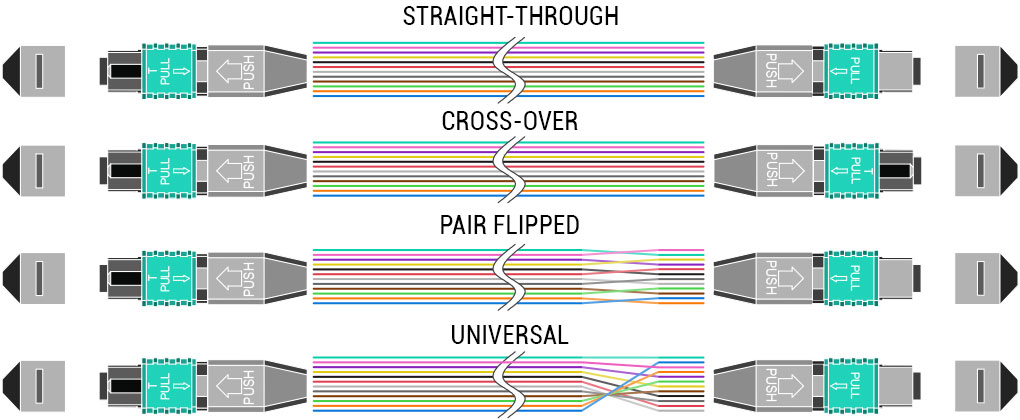 Performance
The MTP connector offers excellent over-life performance when compared to standard MPO connectors. Using optical fiber cables with MTP connectors is best when connecting to equipment with MTP connectors.
Cablesys is a manufacturer of MTP patch cables, MPO patch cables, and fiber optic connectivity. For more detailed information, reference them online here: 24 fiber MTP cables, OM3 MTP cables, OM2 MPO cables, OM1 MPO cables, and OS1 MPO cables.
MTP is a trade name and trademark of US Conec, and is in no way affiliated with, authorized, maintained, sponsored, or endorsed by Cablesys or any of its affiliates or subsidiaries. All rights reserved.